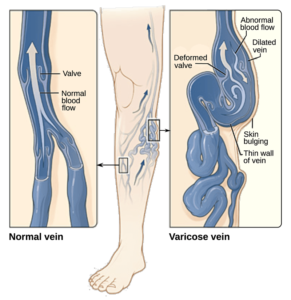 Visiting Endovascular and Vascular Surgeon, Dr Andrew Bullen, performs Radiofrequency Ablation of varicose veins under sedation at Ulladulla Endoscopy. Dr Andrew Bullen trained in Sydney and overseas and uses the latest devices to give patients a better long-term result.
What is the process for getting varicose veins treatment?
Step 1 – Assessment
You will need to have an initial assessment with Dr. Bullen. Please call his rooms on (02) 4243 8050 to arrange this.
Step 2 – Procedure
You will be admitted to our Day Surgery for this procedure.
Radiofrequency ablation is a minimally invasive technique for the treatment of varicose veins.
Using heat created from radiofrequency waves, radiofrequency ablation destroys the abnormal vein. Local anaesthetic and cooling fluids are injected along the length of the affected vein. The device is then passed up the affected vein through a small incision in the skin.
The procedure is performed under sedation for your comfort.
Step 3 – Recovery
After surgery, a compression stocking will be applied. You will be provided with instructions on how to look after your leg.
Step 4 – Follow Up
A follow up appointment with Dr. Bullen will be made prior to your discharge.
Cost
Dr. Bullen will discuss this with you. An estimation of cost will be provided. You can use your private health insurance for this procedure.
FAQs
What are varicose veins?
Varicose veins are veins which have become enlarged and twisted over a period of time. In normal circulation, veins are the channels that take the blood back from the legs towards the heart.  A series of one-way valves stop it falling down again.  When these valves become weak, they begin to leak and the blood pools, stretching the veins. The blood can escape the veins and damage the skin.
To many, varicose veins represent a cosmetic problem. Still, if varicose veins go untreated, they can cause symptoms such as pain, itchiness and fatigue. Over time, as the inflammation continues, this can damage the skin and lead to eczema, scarring and even ulcers. In about 3% of cases, people can develop a blood clot within the vein.
What are the symptoms of varicose veins?

Problems can occur if the faulty valves are located within the veins that go through the calf muscles (deep veins). Associated problems may include:
aching in the legs;
skin rashes such as eczema;
brownish 'stains' on the skin surface, caused by the eruption of capillaries;
skin ulcers; and
blood clots forming within veins (thrombophlebitis).
What are the benefits of radiofrequency ablation of varicose veins?
Radiofrequency ablation is a minimally invasive procedure which means:

no general anaesthetic;
no surgical operation, and
a shorter recovery time.

Less strain on the body means:

a faster recovery;
minimal discomfort; and
being able to resume normal activities sooner

Reduced risk of complications such as:

an infection
bleeding, or
deep vein thrombosis (DVT)

Radiofrequency ablation makes it possible for both legs to be treated at the one time.
Bookings & Info
Please contact our reception team on 02 4455 5422 for further information.
Dr. Bullen's rooms – 02 4243 8050