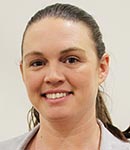 Dr Kate Gibson is a General Practitioner and GP anaesthetist. She recently joined Ulladulla Endoscopy and Medical Centre.
She previously worked in anaesthesia and ICU in Canberra, Queanbeyan, Albury, Nowra and Wollongong. She is now completing Rural Generalist training in Ulladulla.
Dr Gibson was awarded her medical degree from the Australian National University in 2010. She also has a Bachelor of Science and Graduate Certificate in Clinical
Ultrasound from the University of Melbourne. Her anaesthesia training has been accredited by the Joint Consultative Committee on Anaesthesia (JCCA).
Dr Gibson has an interest in Women's Health and Sexual Health and has completed the FPAA National Certificate in Sexual and Reproductive Health.
She is looking forward to settling in the local area, enjoying the beach, fishing and horse riding with her husband and two young children.
If you would like to see Dr. Gibson as a GP, please call us on 4455 5422 to make a booking.